(This post contains affiliate links, you can read a full disclosure here. Thank you for supporting Soaring Arrows!)
Christmas school you wonder? I wondered too.
Thanksgiving break behind us and a Christmas tree before us. I felt as ready to start our homeschool routine back up as my littles. I pondered what to do with this. My heart just wasn't ready to leap fully back into our studies on Mercury when we are anxiously awaiting the arrival of our first snow that sticks.
A mug of coffee warm in my hands and some innovation working it's way into my heart. Is it possible, that we could enjoy December as a time to learn because of Christmas, not instead of it?
No. I am a planner. This was not in our schedule and I have never veered from the schedule even once in my mere 5 years as a Homeschool mother.
Then we hit one of those mornings. When I am trying to teach and we are just well….bored and distracted, Mama included.
Dreaming Daughters head is already filled with images of Sugar Plum Fairies.
Tenderhearted Boy is so on task he is reading two grade levels ahead of himself.
Wild Little Girl is already counting down how many days until we see Grandpa & Grandma for Christmas.
Little Brave can be found digging through the cabinets for food while I'm trying to finish 1. More. Chapter. of that read aloud book.
I've got notes flying in every direction. Reminders to make phone calls, schedule appointments and don't forget about grabbing the next Amazon Lightning Deal!
Resolving to do the brave thing, I get planning to turn everything upside down.
Because why not enjoy the holidays as thoroughly as we can, with learning as an extra perk? We will be continuing on with Math and Reading, however everything else will be on a pause until January when we will simply pick up where we left off! Out of this Christmas school routine I hope we can focus on learning while enjoying the memories of the season we are in. If we can draw a pleasant atmosphere out of a change in our focus, I think we are all winning! So here is what we will be using for the next month as we learn through Christmas!
Christmas School Resources
Unwrapping The Greatest Gift by Ann Voskamp
We have gone through this book for the last few years. The illustrations are gorgeous and each story is written with such poetic beauty it is hard not to be fully engaged! It brings you through the family history of Jesus from creation to the story of Christ's birth. There are ornaments that go along with each day that can be printed off and colored by your kids! This year I ordered the set of ornaments at Dayspring that are absolutely gorgeous, I will be looking forward to each one going on the Christmas tree each day!
The Christmas Star From Afar is something new I added this year for our family tradition. Each morning my kids will be looking out for the star which I will move each night! Whoever finds the star will move the three wise men to its location, on Christmas Eve night the star will be placed above the manger scene. There is a story to read along with it that is perfectly adorable!
Squilt Music – The Nutcracker Holiday Unit Study
After looking over this Holiday unit study I am so impressed with how many things can be learned by studying The Nutcracker ballet! Mainly we will be focused on learning about the composer, music and story of The Nutcracker but I am already noticing how many other resources are available that will only further this opportunity for learning. We will be using the Maestro Classics CD of The Nutcracker to listen to the music which also has the story of the composer as well.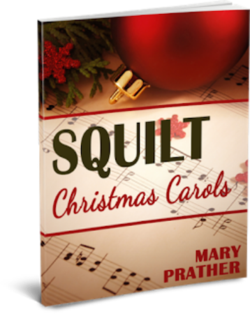 December Themed Picture Books
There is a lot that can be learned in a picture book! We have already finished reading a large number of chapter books this school year, so I am feeling pretty thrilled to dive into some lighter reading. Using the Read Aloud Revival December picture book list I sat down and ordered as many as my local library will allow me to place on hold, when we return those, I will order more! Sarah Mackenzie has impeccable taste in books and I have not once regretted a book off of the Read Aloud Revival lists!
Christmas Traditions Online Unit Study
An online unit study from Techie Homeschool Mom! A look into Christmas traditions around the world as well as the traditions you are establishing right in your own home. This afternoon my kids got a head start on this online unit study and they were taking some time to recall all of our family traditions together. Music to my ears! When the finish that unit study we might jump in to the online study on Christmas Around The World!
Christmas Free Writing
My kids adore writing! If I let them go free they would probably draw and write stories all day. As they get older it is fun to give them some fun topics to write about. For the month of December I will be using this list of free write prompts from Nurtured Roots as our guide. So many ideas here that I will be putting in a big jar to pull out when it's time to sit down and write. For the little ones, well they can just tell you stories for you to listen to or you can write their thoughts down for them!
25 days of Christmas Lego challenge
Each day we will have a new idea to create a Christmas Lego creation! The challenge can be found over at Life Of A Homeschool Mom as part of the ABC's of Homeschooling Through The Holidays series!
I am venturing into new, unmarked territory for our homeschool!
What Christmas school resources have you discovered?
Please share in the comments below!